Independent Living At St. George Village

Planning for a comfortable retirement requires making some wise choices — choices that take into consideration your preferred lifestyle and interests as well as preparation for what the future may hold. At St. George Village, we offer an array of choices that allow our residents to customize their retirement lifestyle in ways that are the most meaningful and enjoyable.
For example, our luxurious independent living residences come with a wide range of amenities to suit individual preferences for comfort and style. Choose from our selection of one- and two-bedroom floor plans that include either a sunroom or screened porch, plus a variety of upscale design features. As an extra service, we provide a planner, who can help with space planning for your new home and move coordination.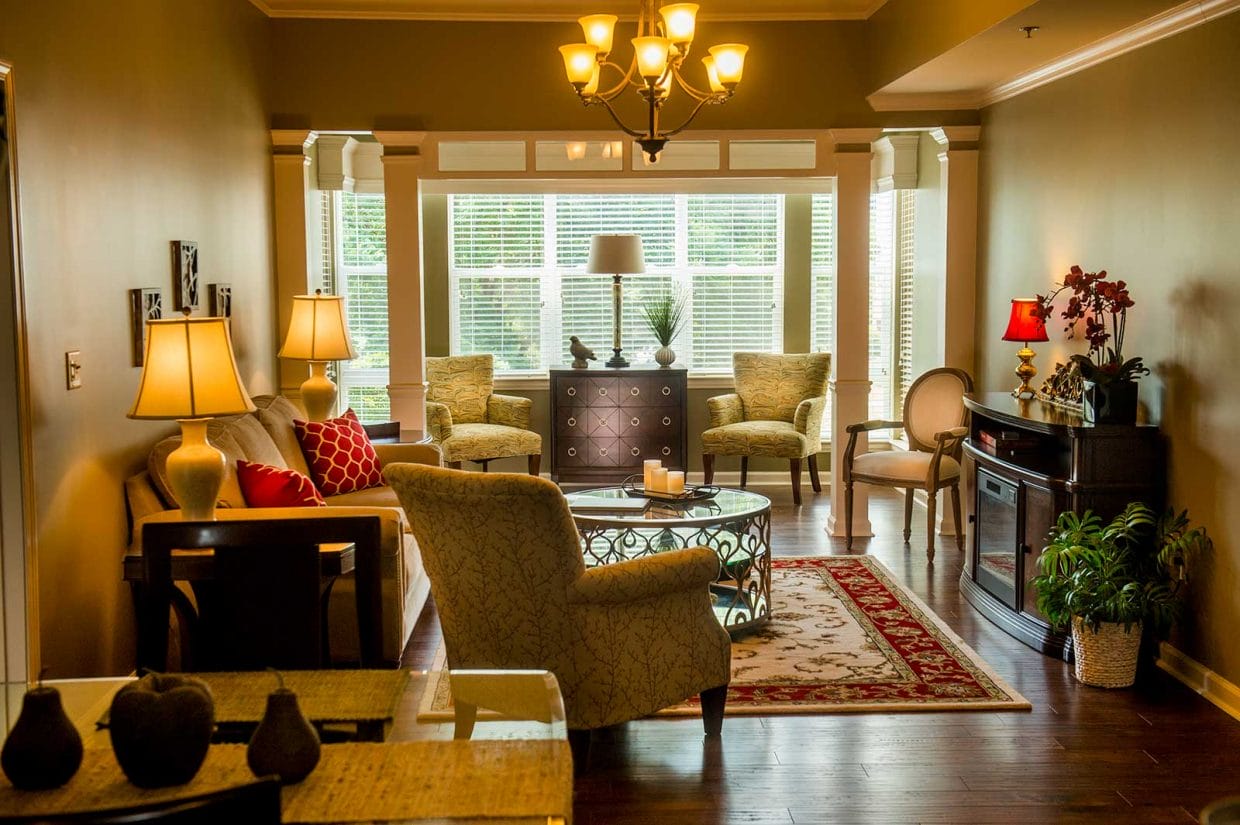 Our delicious dining options are designed to fit a variety of lifestyles and personal routines. While residents may choose to cook meals in their own fully equipped kitchens with state-of-the-art appliances, they may also choose to enjoy customized dining plans that feature tasty, healthful fare cooked up by a talented executive chef and kitchen staff.
In recognition of our residents' desire for an energetic, active lifestyle, we offer a choice of intellectually stimulating and challenging opportunities, from technology classes to discussions of world affairs in our Great Decisions program. Our fitness center, indoor pool, and scheduled exercise classes like tai chi and yoga, plus our proximity to parks and walking trails, offer plenty of opportunities to stay physically active. Plus, whatever your interests — bridge, golf, volunteering and more — you'll find friends in our community who share them. You'll never be bored at St. George Village!
Finally, as a Life Plan community and nonprofit entity, St. George Village offers a choice of entrance fee plans for independent living residents that provide a strategy for a secure future. These plans with their refundable entrance fees ensure predictable monthly service costs for independent living residents, along with superb estate protection. Residents also are assured of priority access to a continuum of healthcare, including assisted living, memory care and nursing care, if and when needed.
Choose to live well in retirement today! Call 770-645-2340 to speak to one of our knowledgeable team members.
Ready to Learn More?
An energetic, carefree and independent retirement lifestyle awaits you.