Be Active, Be Engaged, Be at Home.
Voted Best Senior/Adult Living in North Fulton Family Life magazine's 2020 Best of Life Awards
What is a Life Plan community and is it right for me?
Begin your discovery today by calling 404-558-6108
A Place of Active Engagement
At St. George Village, we believe in a lifestyle of active engagement at every stage of life. Our community is a very special place. A place built on relationships and connections. A place where those who live and work, along with their families and friends, come together to create a thriving environment for all. A place that embodies its mission: "Be Active, Be Engaged, Be at Home."
St. George Village Is...
A place of choice
Every aspect of St. George Village has been meticulously designed for the enjoyment and comfort of all who live here. We offer a variety of choices throughout our community — from custom design features in our elegantly appointed residences to restaurant venues and dining plans. Our unrivaled slate of upscale services and amenities is constantly evolving to fulfill the desires and needs of our residents.
A place that nurtures mind, body and spirit
St. George Village offers an environment where you can experience the small town cordiality of historic Roswell, as well as a wide array of educational, travel, exercise and social activities with on-the-go neighbors who share your interests.
A place where a secure future is possible
Our nonprofit status as a Life Plan Community ensures that St. George Village offers residents superb estate protection along with guaranteed access to its healthcare communities, if and when needed.
Your place for active, engaging, confident retirement
Find out if St. George Village is your place for a worry-free future. Call 770-645-2340 or contact us for more information.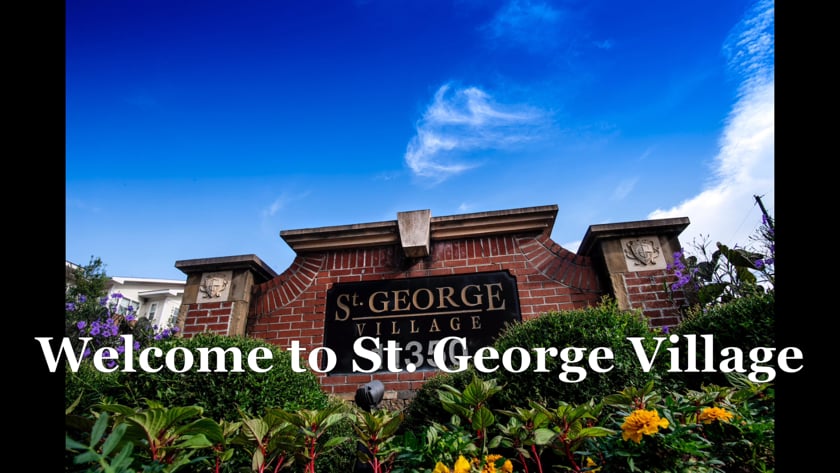 Take a stroll through St. George Village without leaving home!
Watch our virtual tour.
Apartment Availability